App, Washbooks & Gift Cards
Treat yourself or a friend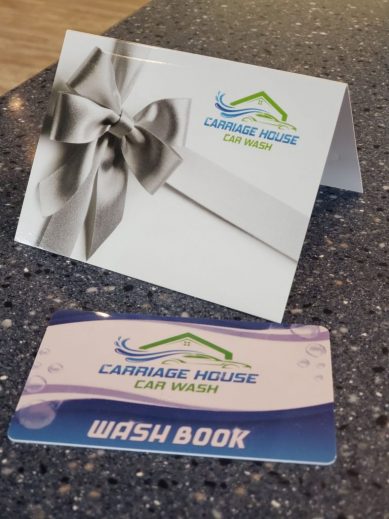 Washbooks
Washbooks are bundles of washes.  Typically they are sold as a buy 4 get 5 washes.  They can be purchased for virtual redemption thru our App or as a physical card.
Washbook are available for the Carriage House Best, Deluxe and Basic wash packages.
Carriage House Best: Buy 4 for $88 and get 5 total washes…that's $22 in savings!
Carriage House Wheels and Wax: Buy 4 for $68 and get 5 total washes…that's $17 in savings!
Carriage House Basic: Buy 4 for $40 and get 5 total washes…that's $10 in savings!
2 ways to Purchase
To purchase for yourself and link to your account, please use your App.
To purchase a physical card (as shown), either stop in our office or give us a call at 513-272-3764
Personalize Your Experience
The Carriage House App
Your experience. Your way. Download our App for the ultimate convenience, savings and simplicity. Purchase Washbooks for a discount, earn free washes with loyalty points or sign up for and manage the Unlimited Wash Club program.
Loyalty points provide great savings.  Simply add your license plate (no spaces) and vehicle information under Manage Vehicle in the App to be on your way to FREE washes.
Double Points Day — Occasionally we will offer double points for single wash purchases. *
Earn Loyalty Points for each wash.
Make sure you have download our App and registered your vehicle year, make, model and most importantly the license plate.
*Does not include Washbooks, upgrades or free washes.